By far the most common and yet still the most effective security system is the Intruder Alarm.
Protecting your family, home & business
The idea of an intruder alarm is to simply try and deter a potential burglary occurring at your house or business premises, and to an extent it works a treat. After all if your house/business is alarmed and another up the road isn't then your premises is a lot less likely to get targeted.
At Ace4cctv we don't believe in using scare tactics to sell our services, but the following is fact. A successful break-in to a house can and usually does have a devastating effect on the people living there. Privacy invasion, loss of valuables and usually worst of all loss of items that can't be replaced. Remember a would-be burglar doesn't care about the things that are special to you.
Many companies ignore the real cost of a break-in until it is too late. The theft of stock, hardware and increasingly data can be detrimental to business. Insurance may cover some of the losses but the disruption can mean delays, lost work and even lost customers.
We design and install a variety of alarm and security systems, according to the needs of your home or business premises. We are happy to advise you as to which system would be best for you. All our alarm systems are scalable and adaptable, and we will design each system to accommodate your security needs and advise you on the areas of your home or business that we feel to be most at risk.
On completion of your installation you will own a burglar alarm system that is simple to use, trouble free and effective at protecting your business, employees, visitors, information and assets.
​
Wireless security systems protect your home with award-winning two-way technology and a range of peripherals to suit any situation, while removing the hassle and disruption of running wires and cabling.
Battery monitoring/saving
Each wireless device is monitored and informs you of when to replace the battery before its life expires. Furthermore, each device conserves battery power by "sleeping" during periods when detection is not needed.
Methods of setting/unsetting
There are three di erent types of setting/unsetting methods: by entering a pin code on the keypad, presenting a prox tag at a keypad or prox reader, or by pressing a keyfob.
User friendly programming
Whether you need to change codes, add tags, add keyfobs, check the logs, change time/date or walk test your system, each function can be easily located and programmed from the user-friendly menu.
Intelligent arming
The control panel recognises 'home' and 'away' modes and will set the system accordingly. For example if you were to set the alarm while in the house (home) and then walk out of the exit door, the system will register the action and automatically set the system to 'away'.
With no cabling or wires to run or hide, the security system can be installed with ease in new builds or existing houses with minimal disruption. Thanks to its innovative wireless technology. It's ideal for even listed buildings, our innovative wireless technology offers a smart and modern security solution with minimal fuss.
The HomeControl+ system can be easily installed in new builds or existing houses with minimal fuss and disruption, thanks to its innovative two-way wireless technology. No wires to run or hide means that it is also an ideal solution for newly decorated homes or listed buildings.
Grade 2 security system
Up to 64 wireless peripherals
Up to 34 wired peripherals
Up to 2 wired bells
Up to 80 individual user codes
HomeControl+ App on iOS & Android
Wireless Peripherals Available for HomeControl+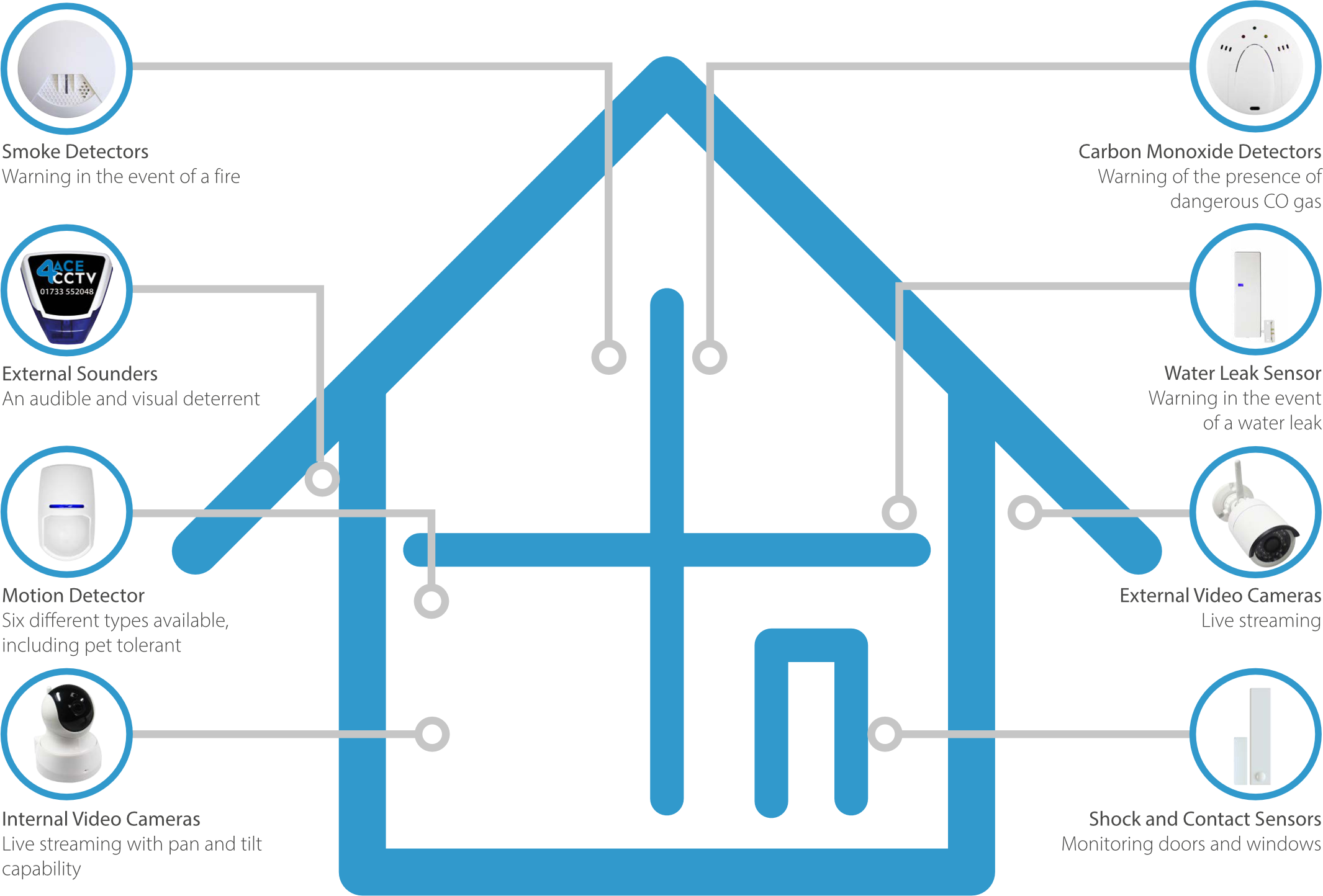 Wireless & Wired Home & Business Alarm Systems
24 Hargate Way, Peterborough, PE7 8AN